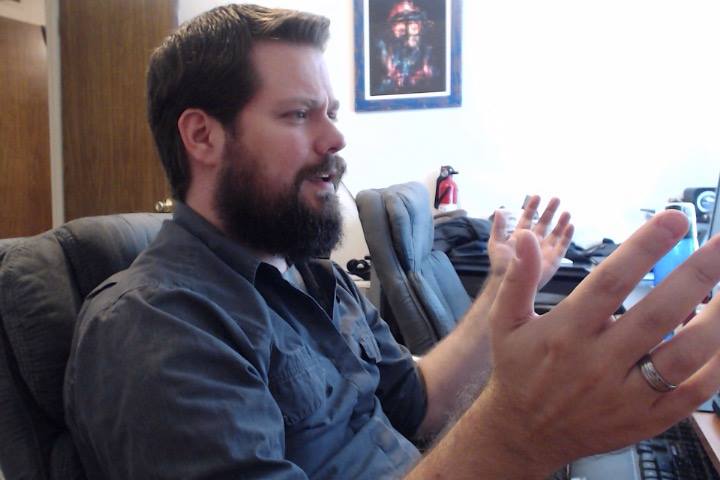 My Background
I've been elbow-deep in tech ever since I got my first computer. I worked in IT for over ten years before leaving my job to return to school to pursue web development. I've loved tinkering with web design and backend development for years-- in fact, the image to the right is me getting frustrated that a PostgreSQL database won't connect properly. It's a funny picture, but it's truly Travis in his element.
My Classes
I'm currently in my second semester out of three at NRCC, because I was able to transfer in some previous credit to shorten my time here a bit. I'm taking four classes this semester:
Web Design I - Introduction to Web Design
Visual Basic .NET - Creating applications in Visual Studio
Interactive Web Design - Creating interactive content in (primarily) Adobe Flash
Database Fundamentals - Exactly what it sounds like! The fundamentals of databases
Future Goals
Ultimately I want to work for a good web design/development company, with a great team that I love working with. I want to create amazing things with amazing people. I may do freelance work on the side, but the stability and community that comes from a company is more appealing to me.
Fun Stuff
I'm an avid gamer. Ever since I got my NES back in the '80s, I've been playing as many games as I can get my hands on. My current favorites are pretty much anything Bethesda makes. Fallout 4 just dropped, and I'm trying to get all my work done early so I have plenty of time to binge on it.
I'm a musician as well, though I haven't picked up an instrument in far too long. I started with trumpet in 5th grade, and played in band all through middle and high school, and in one semester of college. When I was in tenth grade I started playing guitar, and had a band with some friends until a few years ago.
More Information
I'm a co-admin for a gaming community my friend Jon started, called Cheerful Ghost. It's a place for gaming news and discussion where anyone can submit content; it isn't dependent on a few paid writers.
Once we gained some traction, we've been able to talk to some big names in gaming. The two most popular people I had the honor of interviewing were Andrew Spinks, the creator of the massively popular indie game Terraria, and Ryan Gordon, one of the pioneers porting games to Linux. That interview got Slashdotted and Reddited quite a bit, so I got my 15 minutes of fame. Maybe I'll get 15 more some time.
It's also great to get review copies of games. Microsoft recently sent us two review copies of the new expansion of the Age of Empires II HD revamp, and we are working on the review now. The free games are nice, but it's just great that these companies think we're important enough to get early and free access.
Links
If you want to find me elsewhere on the web, here are some of the other sites I frequent: